BOONE- The Appalachian Phi Psi Chapter of the Sigma Theta Tau International (STTI) Honor Society of Nursing received a Chapter Key Award and Showcase of Regional Excellence (SRE) Award at the 43rd Biennial Convention in Las Vegas, Nevada on November 9.
The Chapter Key Award recognizes STTI chapters that excel in chapter-related activities such as membership recruitment and retention, publicity and programming, professional and leadership development, and local, national, and international collaboration.
The SRE award is designed to recognize the work of chapters exemplifying one or all of the areas of the Presidential Call to Action. STTI President Hester C. Klopper's 2013-2015 areas of focus were servant leadership, connectedness, transformation, and gratitude. The Appalachian chapter was specifically identified for work in the area of servant leadership.
Phi Psi Chapter president and Associate Professor of Nursing Linda Johanson accepted the awards during the convention. She was honored to receive the recognition and said, "It is especially significant because Phi Psi was chartered as a chapter only two years ago."
Johanson and fellow Appalachian Department of Nursing faculty members Susan Lane, Vickie Hughes, and Beth Fiske also presented research during the convention.
For more information about STTI, visit their website. More information about the Department of Nursing in the Beaver College of Health Sciences is available here.
Pictured: posing at the award ceremony in Las Vegas with the banner on which the Key will hang are Beth Fiske, Linda Johanson, and Susan Lane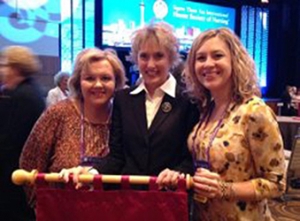 Tags: