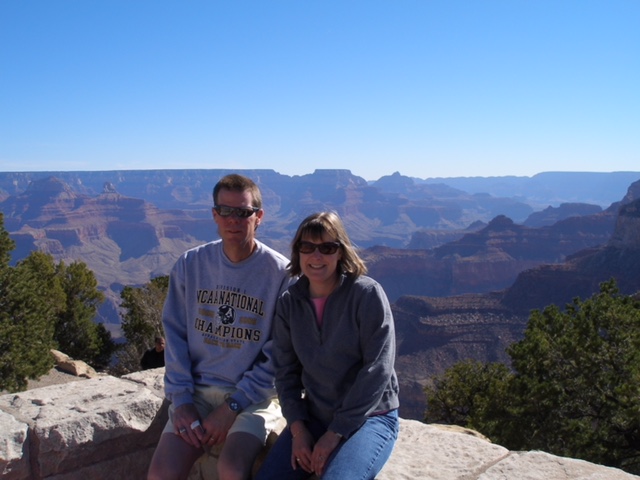 Phil '86 and Pam Hardin '85 are leaving a legacy at Appalachian because giving others a path for a good quality education is important to them both.
Pam believes the quality of education she received at Appalachian, as well as the lifelong friendships she developed created an exceptional educational experience. "Appalachian taught me the value of other people's diversity, talents and skills, and I have used that throughout my career to bring out the best in people. The sense of community that Appalachian provides to this day is something we both appreciate and feel it's one of the most special features Appalachian has to offer."
According to Phil, "Appalachian prepared me well for my role as Economic Services Division Director for Buncombe County Health and Human Services. I think back a lot to what I learned at Appalachian and I had some wonderful professors that prepared me for a career in government. The region too is special to me, I was born in North Carolina, but grew up in Florida, so being able to come back to the mountains of North Carolina meant the world to me. I really enjoyed the environment at Appalachian - really down to earth people go to school there and we were fortunate enough to meet some wonderful people who are still in our lives today. Appalachian operates as a small university with all the amenities of a large university due to the community feel that is ever present."
As far as the impact of their donation, Phil spoke of his work in social services for the past 30 years, "My life has always been about helping those that are less fortunate, and in working with the population I have worked with over the years, I truly believe that education is a path out for some of the individuals and families I have worked with, and if I can give someone the opportunity to better themselves, than I'm going to do that. It's important for me to give back to the community. Although we give to several different organizations, I truly do believe education is a step up for all individuals and Appalachian is always first in our hearts!"
Pam added, "Appalachian gave me a tremendous opportunity and I would like to help others have the same opportunity to experience what I experienced there. While we are not graduates of the Beaver College of Health Sciences, as someone who worked for Mission Hospital for 16 years, the health care aspect of what the college is doing now is important to me. My hope is that some of the graduates would stay in this area, because you have to have healthy communities to have successful communities. The welfare of the people of this region is important to me because they are my family, my friends and my neighbors. We learn because it gives us choices and we want others to have the opportunity to learn and better themselves and the region."
Phil and Pam hope their plan to include Appalachian in their estate is an inspiration for others to do the same. As Pam stated, "You don't have to have a lot of money right now to make a difference. With estate planning you don't have to stroke a check now, you can do this for the future."
For more information on making a difference through estate gifts, visit 1899Legacy.appstate.edu or contact Kelli Wilson, Director of Development for Beaver College of Health Sciences at wilsonkh@appstate.edu or 828-262-6714.