By Amanda Mlekush
Kristian Jackson has a gift for building communities.
One of the recent ones Jackson has built over the past 10 years, the community that supports Watauga County's first mountain biking park, Rocky Knob, continues to evolve past its roots as a rugged dirt track of trails for advanced riders. Recent improvements to the park, including a dirt pump track and now a paved one, make Rocky Knob accessible to beginning bike riders and children. (Pump tracks are circular paths with loops and berms that use physics to allow the rider to maximize momentum with minimal pedaling, or put simply, a fun, easy way to ride.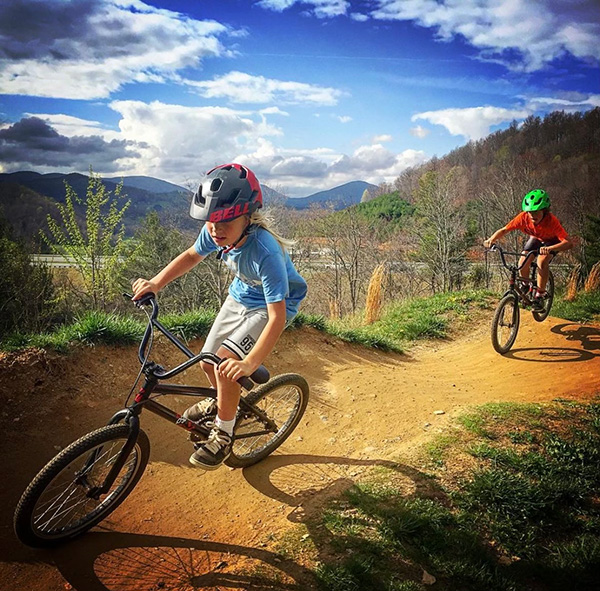 Through its evolution from seven miles of trail to today's park that has ten miles and the addition of the pump track, Rocky Knob has been recognized as a force for economic development by contributing about $2.6 million to the Boone area annually. Jackson has kept costs low by relying on the generosity of its community, which has contributed more than 10,000 hours toward trail maintenance, by applying for grants to fund expansions and the assistance of its funding authority, the Watauga County Tourism Development Authority.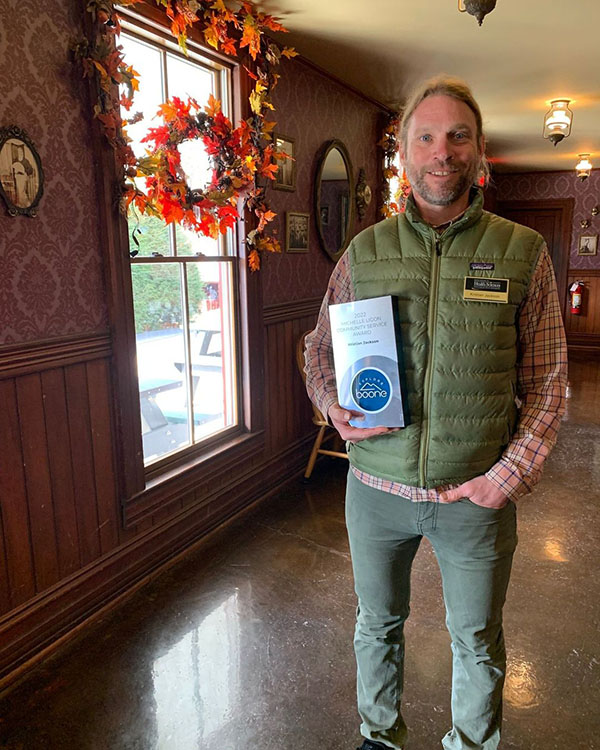 Recently, Explore Boone honored Jackson, a faculty member at App State in the Department of Recreation Management and Physical Education, with its inaugural Michelle Ligon Community Service Award in recognition of his stewardship around Rocky Knob, from the design of the park to the ongoing maintenance and vision that continues to grow the community who utilizes it. The award memorializes the legacy of Ligon, longtime director of social media and public relations for the Boone Tourism Development Authority, who died in 2021.
Defining A Purpose: What Can You Bring To This Community?
When Jackson came to Boone in 2006 to teach Recreation Management courses, he said he immediately noticed an absence of mountain biking trails in a region rich with outdoor recreational activities. He'd grown up riding bikes in the 1980s in a rural Illinois town that manufactured basic department store bikes, a staple in most homes and precursor to today's technologically advanced mountain bikes.
After graduating from N.C. State Jackson taught high school English in Raleigh where he started an after school mountain bike club. He went on to earn his master's degree from the University of Georgia and work for North Carolina Outward Bound where he maintained his first trails in Pisgah National Forest. Those experiences, combined with working as a college instructor, created the foundation he says that defines his approach to trail, and community, building.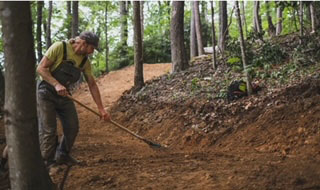 "When I was interviewing to work at Outward Bound, one of the folks asked me: 'What are you going to bring to this community,' and I didn't know how to really answer that question," said Jackson. Even though he was hired, the pointed question stuck with him and now has a more profound response.
"I think that Rocky Knob has been my answer to that question, and what I've been able to bring to this community," said Jackson.
Explore Boone's Executive Director Wright Tilley agrees.

"Kristian has done so much–from Rocky Knob Mountain Bike Park–to growing the cycling community in general, and he did all of this voluntarily," Tilley said. "We affectionately call him the 'Trail Boss' of Rocky Knob. He took the initiative and stepped up to make this park a success, and the longevity of his contributions to the tourism industry really set him apart from others who were considered for this award."
This particular award has special meaning for Tilley who worked alongside Ligon and helped establish the honor in her memory.
"Michelle was loved by this community and spent more than 20 years promoting Boone and the High Country region," he said. "She did so many things as a volunteer behind the scenes we didn't even realize until after her passing when people came to us and shared stories about things she did to help her community without any desire or expectation of recognition. And I think Kristian fits that role. He's not doing what he's doing to get recognized; he's doing these things because of his passion for the cycling community and outdoor recreation and for his love of the Boone area."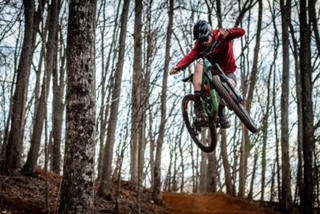 What the Trails Have Taught Him
The greatest gift through the process of building and maintaining Rocky Knob has been learning from the trails, Jackson said.
"The trails have taught me some valuable lessons," he said. "Slow down. Pay attention. Those are some of the big ones…and take people along with you when you go."
About the Beaver College of Health Sciences
Appalachian State University's Beaver College of Health Sciences (BCHS), opened in 2010, is transforming the health and quality of life for the communities it serves through interprofessional collaboration and innovation in teaching, scholarship, service and clinical outreach. BCHS offers nine undergraduate degree programs and seven graduate degree programs, which are organized into six departments: Nursing, Nutrition and Health Care Management, Public Health and Exercise Science, Recreation Management and Physical Education, Rehabilitation Sciences, and Social Work. The college's academic programs are located in the Holmes Convocation Center on App State's main campus and the Leon Levine Hall of Health Sciences, a state-of-the-art, 203,000-square-foot facility that is the cornerstone of the Wellness District. In addition, the college supports the Blue Cross NC Institute for Health and Human Services and has collaborative partnerships with the Wake Forest School of Medicine's Physician Assistant Program, the Appalachian Regional Health System and numerous other health agencies. Learn more at https://healthsciences.appstate.edu.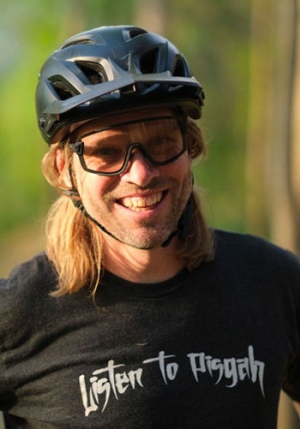 Tags: