BOONE- Appalachian State University Associate Professor of Recreation Management Melissa Weddell received the 2015 Outstanding Professor Award from he Resort and Commercial Recreation Association (RCRA). Weddell received the award during the 2015 RCRA national conference on Captiva Island, Florida in November.
The RCRA award identifies a professor displaying commitment to and excellence in the delivery of education for the commercial recreation profession. Nominees must have made a significant and positive impact at his or her college or university and is actively involved in the academic growth, internship experience and professional development of students.
Weddell's research focus is on developing sustainable management practices and public policy for natural tourism destinations. She teaches numerous courses in the Department of Recreation Management and Physical Education associated with her research as well as leisure services administration and promotion.
In addition to receiving the award, Weddell presented at the RCRA conference with fellow Appalachian Professor of Recreation Management Stephanie West. Their presentation was titled "Digital Citizenship" and examined the complex role of social media from the perspectives of both employers and employees.
Weddell received an undergraduate degree in Small Business Management from Ball State University, an MBA with a focus on Organization Resource Management from Souther Illinois University and a PhD in Recreation Resource Management from Clemson University.
More information about the RCRA is available on their website. Additional information about the Recreation Management program at Appalachian is available here.
Pictured: Dr. Melissa Weddell with Appalachian Recreation Management alumnus Hayley Upton '14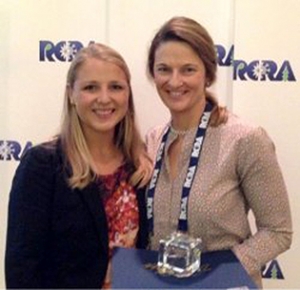 Tags: