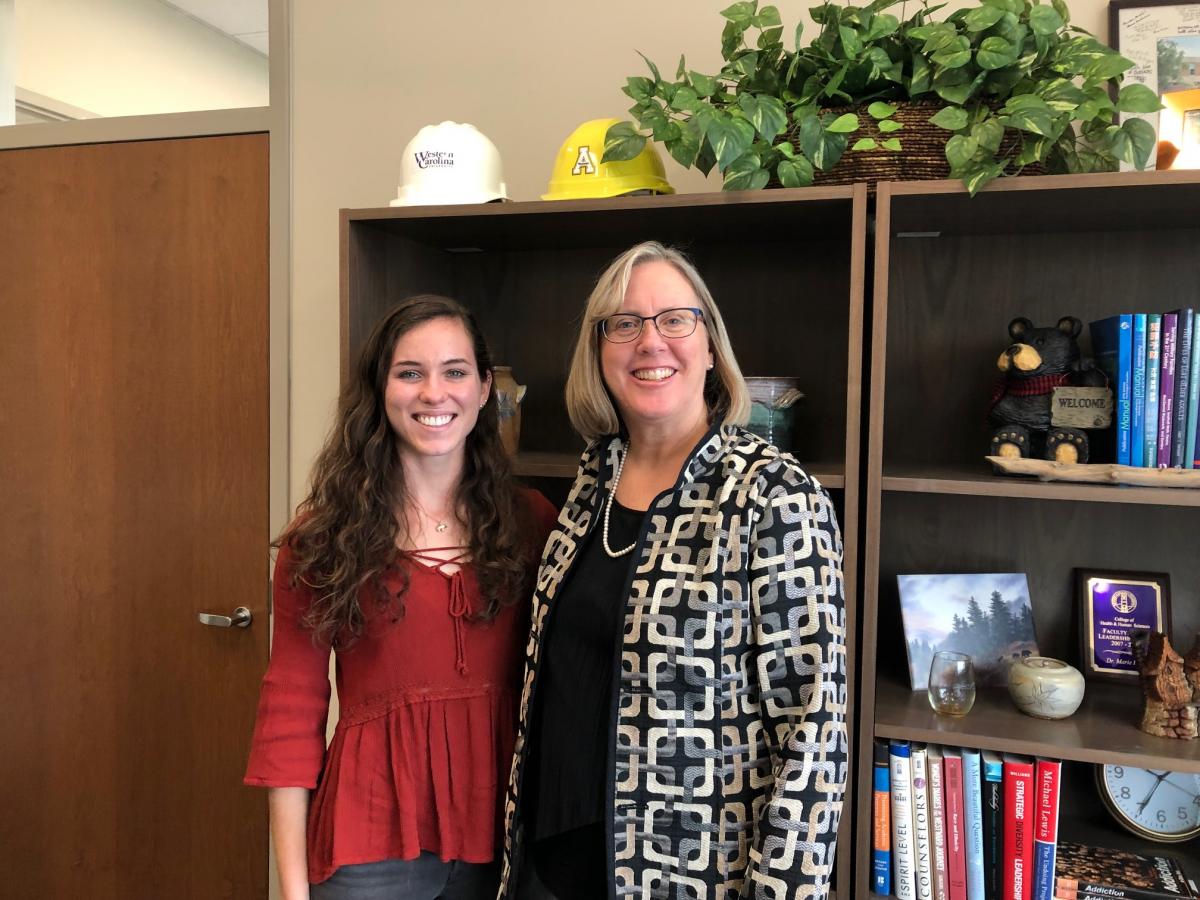 Phylissa Greeley (left) pictured with the Beaver College of Health Sciences Dean Mare Huff. Photo by Audrey Gurkin
By Audrey Gurkin
BOONE, N.C. — Phylissa Greeley, a senior exercise science major at Appalachian State University, was on her way to work earlier than normal on Monday when she heard someone say, "Call 911" and that immediately got her attention. She looked over and saw a crowd of students standing around a man on the ground. Greeley quickly ran over to the man who was already blue and laying on his side. She checked his pulse and found no pulse at all. She quickly turned him over to his back and began CPR. She was soon joined by Joey Martin, a senior exercise science major, who is also an EMT. Martin performed compressions while Greeley did mouth-to-mouth for approximately five minutes before the ambulance arrived and the EMT's took over. It was only then that they were able to find a faint jugular pulse.
Greeley and Martin were surprised that of the 20-plus students surrounding Lee, not one of them knew how to perform CPR.
According to a national survey released by Cleveland Clinic in February 2018, only slightly more than half of Americans (54 percent) say they know how to perform CPR and only one in six know the recommended technique for bystander CPR, which consists of just chest compressions – and no breaths – on an adult. Additionally, according to the Omar Carter Foundation, Studies now show that learning "Compression Only CPR" or bystander CPR makes people more likely to respond. The need for this education and training is increasingly important as more than 340,000 people in the US suffer Sudden Cardiac Arrest (SCA) every year and less than 10% survive.
Greeley learned CPR during the summer while she was studying to become a Certified Nurse Aide and Martin learned CPR in a public health course, Emergency Care and CPR, offered at Appalachian.
"This is something that no one ever wants to happen to them, but these things do happen," Martin said. "Crisis management is something that I feel is ignored because it's one of the subjects that no one wants to talk about."
Greeley added, "I would like to continue to work with students and the community to teach them the benefits of CPR and bystander CPR."
Greeley will have that opportunity as Dr. Marie Huff, Dean of the Beaver College of Health Sciences has set the goal that all faculty and students in the college will be trained in bystander CPR and in how to use automated external defibrillators (AEDs). "It is my hope that this training will soon be available to the entire university community and that AEDs will be strategically placed in all our buildings," Huff stated. "We never know when we may encounter someone in cardiac arrest, which can result in immediate death if there is no intervention."
The college's Health Heart Collaborative (a partnership with the Omar Carter Foundation) provided bystander CPR training to all faculty and staff in the Beaver College of Health Sciences last fall. This year's training of students began on February 5 and will continue until February 28. Initial estimates predict over 1,600 students will be trained over the next three weeks!

Tags: