By Amanda Mlekush
After being laid off from her job at a manufacturing facility in the midst of the 2020 pandemic, Amanda Abernathy decided to pursue a new career path, and go back to school to earn her degree in Social Work.
"Going back to school was a promise I made to myself, but even more than that, I wanted to show my son Trent that it was possible," she said. "I want to show him that if mom can do it, then you know you've got to work hard and do it too."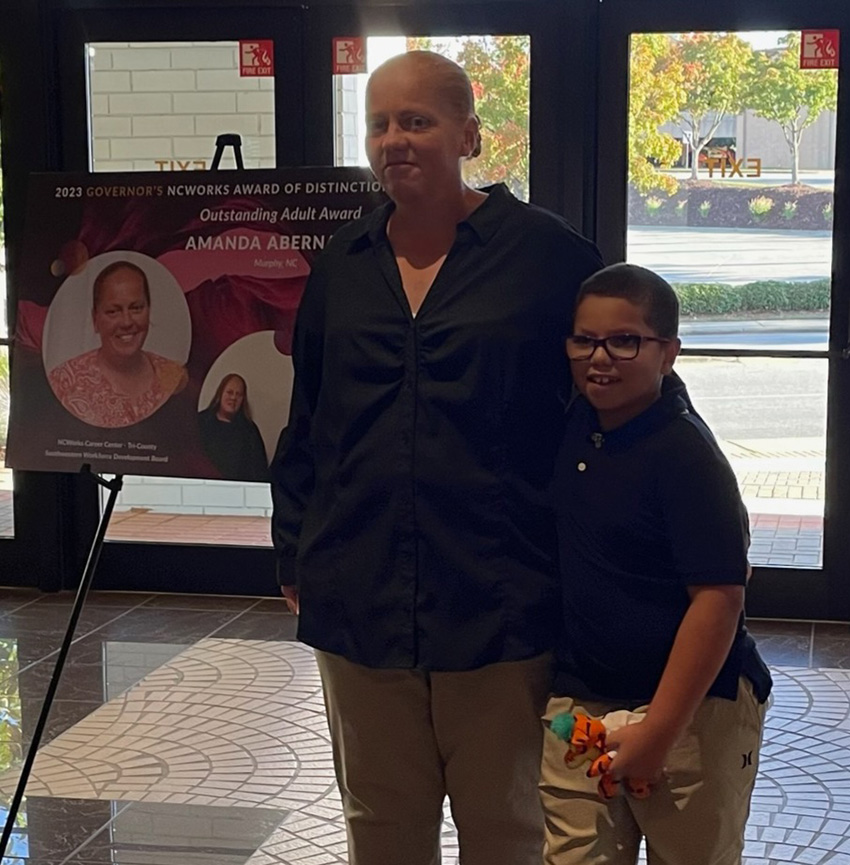 Abernathy (left) is standing with her son Trent at the awards ceremony.
To return to school, Abernathy sought the assistance of the NC Works Career Center in Murphy and was awarded a Workforce Innovation Opportunity Act grant for displaced workers and began pursuing her associate's degree at Tri County Community College.
During the pandemic, she and Trent did their classwork online together, and Abernathy found a job at the Cherokee County Department of Social Services working with parents and their children as a visitation coordinator. She graduated from Tri County Community College with honors in 2023, and immediately enrolled in App State's online social work program to finish her bachelor's degree with aspirations to continue the program to earn her master's in Social Work.
"Working with the ladies in the visitation services did something to me. Before that, I was helping care for my grandpa, and it showed me the need to be a voice for the elderly because sometimes they didn't have one," she said. "Combined, those things put me on this career path of being a social worker."
Abernathy's educational journey was so inspiring that she was recently recognized with a 2023 Governor's NCWorks Awards of Distinction. During the awards ceremony, her story was shared through this video: https://www.youtube.com/watch?v=F4qvfbmV-Hs
"I try to be positive because you never know what someone is going through," she said. "They might be having a bad morning, and a little positive boost might make their day."
Abernathy is the second App State Social Work student to receive the Governor's Award of Distinction. In 2022, first generation college student Tabitha Arrowood received the award after graduating from Western Piedmont Community College. Her story is shared: https://www.youtube.com/watch?v=i2mBrtd5Vio
"The recognition of Amanda and Tabitha with the Governor's Award is a testament to the caliber of students we are privileged to have in our social work program," said Dr. Leah Hamilton, Social Work professor. "Both have overcome significant barriers to excel academically and make meaningful contributions to their communities. They truly embody the spirit and ethos of social work."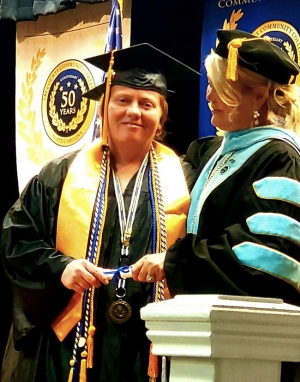 Tags: