Each year the Beaver College of Health Sciences commemorates our students' achievements during our spring student awards ceremony. These students were selected by the BCHS faculty through a very competitive process and represent the cornerstone of what Appalachian State University is about — academic performance and scholarship. We hope you enjoy learning a little more about these outstanding students (and their excellent faculty and staff) as you read about some of their accomplishments and career goals outlined below.
Several years ago, we chose the sunflower as the symbol of our awards ceremonies. The sunflower represents loyalty and longevity, and the sunflower's bright yellow color symbolizes intelligence, happiness and beauty. These qualities align with our award recipients, who truly represent our best and brightest!
Undergraduate Academic Awards
These students were selected based on their cumulative grade point averages, their overall academic performance and scholarship, and their high standards of academic integrity.
Claire Roberts (communication sciences and disorders) states that winning this award is her most significant accomplishment at Appalachian. She would like to thank Dr. Laura Chapman for the positive influence she had on her as a student in the CSD program. "I had the opportunity to work on a research project with Dr. Chapman and two graduate students. This experience allowed me to become more involved in the CSD program and step out of my comfort zone. I deeply appreciate all I have learned from Dr. Chapman during my time here and I am so grateful for the opportunities she has given me to grow as a student and a future clinician." Roberts is excited to start a graduate program this fall in speech-language pathology and hopes to one day work in a medical setting. She says that learning at least one thing every day has made her a better leader and a better student.
Morgan Mann (athletic training) indicates her favorite class was the cadaver lab portion of the Movement course she took her sophomore year. According to Mann, "This course caused me to gain a deep understanding of anatomy for the first time. Being able to spend time in the lab made me fall in love with learning about the body and how it moves." Mann would like to recognize Dr. Ashley Goodman, Dr. Jennifer Howard, Dr. Ashley Marshall, Dr. Alan Needle and Ms. Laurie Rivera for their support. "Each and every one of them has had a positive impact on me in different ways," said Mann. She has made lifelong friends in the Athletic Training Program and has grown personally and professionally over the past four years. She plans to start physical therapy school this fall and hopes to one day work with children.
Jarrett Beaver's (exercise science) childhood dream was to attend Appalachian. Beaver's most significant accomplishment was the completion of his departmental honors thesis. He credits both Dr. Andrew Shanely and Dr. Herman van Werkhoven as being instrumental in his success. "Dr. Shanely was my mentor for my honors thesis and did everything he could over the past two years to help me succeed. Numerous meetings, phone calls and video chats showed me how passionate Dr. Shanely is for the discipline of exercise science and research. Dr. van Werkhoven gave me the opportunity to join the departmental honors program in Exercise Science, allowing me to learn from numerous professors through the completion of honors contracts and my honors thesis," said Beaver. He is attending graduate school for physical therapy at the University of Florida this fall.
Olivia Rush Gentry (public health), a Dean's Scholar, plans to take a year off to participate in an AmeriCorps program before going on to get her master's degree in public health with a concentration in maternal and child health. "With my degree, I hope to gain a career in improving the way sex education is taught in our country," said Gentry. Her fondest memory at Appalachian was her experience with WE CAN (Wellness Educators for Change, Advocacy, and student Needs) training, and she was honored to serve as the president of this group. According to Gentry, after her experience with WE CAN, she knew she "was going to love being an educator." She wants to thank the faculty in the public health program who have helped her become the professional she is today: Dr. Erin Bouldin, Dr. Rich Christiana, Dr. Adam Hege, Ms. Jan Rowe, Dr. Chris Seitz, Ms. Colleen Tarantino, and Dr. Jennifer Zwetsloot.
Joseph Bost (nursing) plans to take his NCLEX, (National Council Licensure Examination) and move back home to start his nursing career at Catawba Valley Medical Center. According to Bost, his most significant accomplishment while at Appalachian was receiving the Founding Dean Fred Whitt and Donna Whitt Endowed Scholarship. "Receiving this scholarship was one of my proudest moments and I am thankful for the financial assistance that it has provided me," Bost said. He would also like to recognize Angela Koontz, who was his clinical and lab instructor during his first summer as a nursing student, for her positive influence. "Ms. Koontz would always make me feel like one of her own family and was always my shoulder to cry on during nursing school when things got tough. I will forever be grateful for the role that Ms. Koontz has played in my academic success," said Bost. He also wants to thank Rebekah Almond who taught him to lead by example.
Darby Vereyken (health care management) plans to take a few weeks off after graduation before continuing to graduate school to earn her MBA. Vereyken would like to recognize Dr. David Williams for the significant impact he had on her time at Appalachian. "As a professor and my internship faculty advisor, Dr. Williams has been a constant mentor in my academic career. He was always there to push me to be better and do better or give me advice when I needed it," said Vereyken. Her favorite class was Health Informatics with Dr. Trent Spaulding, and the tools she learned in this class are ones she will take with her into her future career. She also would like to share something she learned about leadership while at Appalachian, "Rarely is it about being great, but more about being someone who can help others find their greatness."
Sarah Radman (nutrition and foods) plans to become a DTR (Dietetic Technician, Registered) and work for a few years before returning to graduate school to become a Registered Dietitian. Radman's favorite class was Nutrition and Health, and it led her to complete a research project on the body composition and diet of rock climbers. She would like to recognize Dr. Alisha Farris for her impact during her time at Appalachian. "Dr. Farris was my first nutrition professor and put up with me asking endless questions after every class. Taking her class and talking with her about the field of nutrition solidified my decision to study nutrition. I also joined her in Madagascar to complete nutrition research, which was one of the most educational and eye-opening experiences for me. Dr. Farris has become a mentor whom I turn to for academic, research and personal advice," said Radman.
Shawn Sharpe (health and physical education) plans to become a physical education teacher and would love to coach football. Sharpe learned the importance of leadership while at Appalachian, "It is important to always have a positive attitude when leading a classroom because I know my attitude towards the things I am teaching will impact the way my students will feel about them. I want my students to enjoy and see the importance of quality physical education and I hope to lead them by example," said Sharpe. He would like to recognize Mr. Byron Towner for his positive impact on him while at Appalachian. "Mr. Towner is a great professor and a great person to have in charge of the Health, Physical Education and Coaching Club. He makes our club meetings interesting, meaningful and competitive."
Morgyn Alyce Manzer (recreation management) plans to be a Senior Services Coordinator for a parks and recreation department. Her favorite class was Program Planning taught by Dr. Stephanie West. "I learned a lot of practical knowledge on how to develop and run a program, as well as actual experience with a large scale program by helping run the Blowing Rock Christmas Festival," said Manzer. She would also like to recognize Dr. Jill Naar for her impact. "Dr. Narr and I share a common area of interest in older adults and providing recreation services to this population in order to promote successful aging. She is passionate about sharing her expertise and it shows. I am thankful for having a professor who has experience in my area of interest and has supported me in my career path."
Gabby Gil (social work) plans to attend graduate school to earn her master of social work (MSW) degree and focus on direct practice in healthcare. At Appalachian, Gil served as a transfer student mentor, led tours of campus, and was selected to speak at the Global Symposium. She would like to recognize Sarah Donovan who "has always motivated me to take on roles and projects that have allowed me to grow as a student and future professional. For example, in addition to our trip to El Paso, Texas, I have had the privilege of serving as her work study assistant and research assistant these past two academic school years to identify ways we can better support Latinx youth in rural North Carolina. As a first-generation college student, her guidance and words of encouragement have helped me become more confident in my academic abilities and have helped me navigate difficult moments in my student journey (including stressful graduate school applications). I admire her passion and dedication to the social work profession and am fortunate to have such an incredible mentor and role model as a social work student."
Undergraduate Leadership Awards
These recipients have distinguished themselves through their service to their peers, to their degree program, to the university and/or to the community. They are recognized for their leadership either informally among their classmates or in a formal capacity such as serving as an officer of a student club or other campus activities. Strong leadership is an important characteristic for future health professions and these students represent the type of effective leadership needed within our communities.
Leanna Pollack (communication sciences and disorders) plans to attend graduate school for speech-language pathology and land a job at a medical facility or a VA hospital to specialize in swallowing and neurological disorders. Pollack's greatest accomplishment while at Appalachian was becoming an Undergraduate Research Assistant for Dr. Jordan Hazelwood. According to Pollack, "I was granted this position during the Summer of 2019 and I continue to volunteer for Dr. Hazelwood's research lab. This experience also allowed me to become a published author." Pollack also served as the Vice President of Appalachian's local National Student Speech, Language, and Hearing Associations honors chapter. Working with five dedicated individuals on the executive team has taught me so much about teamwork and leadership, as well as provided me with fantastic friends and fond memories," said Pollack.
Caleb Spencer (athletic training) served as President of the Athletic Training Students Association. His fondest memory while at Appalachian was being able to work with the football team the past two seasons while winning consecutive conference championships and bowl games. Spencer has accepted a graduate assistant position at The Citadel where he will work with their football team as an Athletic Trainer and get his master's degree in Health, Exercise, and Sports Science. According to Spencer, "The biggest lesson I learned about leadership at Appalachian is to be authentic with who you are and people will respect that quality." He wants to thank the Athletic Training faculty, Dr. Ashley Goodman, Dr. Jennifer Howard, Dr. Ashley Marshall, Dr. Alan Needle, and Ms. Laurie Rivera, for helping him grow personally and professionally.
Allison Virginia Farrell (exercise science) states that her biggest accomplishment was defending her honors thesis, Parental Impact on Child Physical Activity and Sedentary Time, which has been submitted to the Journal of Appalachian Health. While at Appalachian, Farrell also served as a Health Professions Peer Advisor and worked as a tutor. Her favorite class was Anatomy and Physiology with Dr. Caroline Smith, and she would also like to recognize the faculty that helped her with her thesis and research. "Dr. Battista has been my mentor since I met her at the start of my freshman year. She has helped me so much with my research, thesis and my future career goals. Without her, I would have never given an oral presentation at the National Conference for Undergraduate Research last April. Also, a huge shout out to Dr. Richard Christiana and Dr. Joy James who have been amazing thesis committee members."
Justin Parker Kearley (public health) plans on attending graduate school and becoming an epidemiologist. According to Kearley, "Since I was 10 years old Appalachian State was my first choice school. It's a satisfying feeling to know that the school you chose all those years ago was the right one for you at the end of your baccalaureate career." Kearley is thankful for the opportunity to work on research with Dr. Erin Bouldin, Dr. Adam Hege, and Dr. Chris Seitz, and says "I have grown so much as a student and as a person during my time here and I'm thankful for every memory I've made. Dr. Bouldin has been my mentor since I took her biostatistics class when I was a sophomore. Ever since then she has taught me so much both in and out of the classroom. She helped me to get my internship at the CDC, has included me on multiple research projects and has taken the time to talk with me when times get rough. She is one of the best people that I have met during my time here and I'm thankful to know her."
Will Osborne (nursing) would like to share what he learned about leadership while at Appalachian. "Going to clinicals as a student nurse really gave me a sense of the weight of a nurse's autonomy and responsibility. As a student, you are the one spending all day with one or two patients. You have to be in tune with your patient's needs and have the courage to speak up on their behalf to the doctors and nurses. Often, if you do not stand up for the patient, no one will. Clinicals taught me to be persistent and a leader in patient advocacy," said Osborne. His favorite class was Pathophysiology with Dr. Jean Bernard, who he refers to as "a gifted, passionate teacher." He would also like to recognize Dr. Greg Marler for his positive influence, "Dr. Greg Marler is an extraordinarily intelligent and experienced nurse, a gifted teacher, a personable human being and a staunch patient advocate. I always felt that Dr. Marler took me seriously as an individual and treated me more like the nurse I would become rather than the student that I was. When I think of the skills I want to master, the values I want to embody, and the nurse I want to be, I think of Dr. Marler."
Wesley Stroupe (health care management) plans to earn a Master of Health Administration degree and then enter the workforce as an administrator in a rural health system. He would like to recognize Dr. Sandi Lane for her positive influence on him during his time at Appalachian. According to Stroupe, "Her willingness to help me and her availability has allowed me to pursue opportunities that I had originally not thought possible." Stroupe also wants to thank Dr. Trent Spaulding, whose class on health informatics was extremely invaluable, and Dr. Susan Roggenkamp who taught him to be a servant leader. He also reflected on his fondest memories of Appalachian, "l will forever remember football games at 'The Rock', the lifetime friendships and the overall experiences with my professors guiding me through not only my coursework but my career as well."
Rebecca Hambright (nutrition and foods) served as President of the Appalachian Student Dietetic Association and plans to attend Appalachian this fall in the Master of Science and Dietetic Internship program. According to Hambright, "I would like to recognize all of my professors, especially Dr. Martin Root, Ms. Melissa Bryan, Dr. Melissa Gutschall, Dr. Lisa McAnulty and Dr. Alisha Farris, along with my academic advisor Dr. Daniel Byrd, all have been so supportive and encouraging since the beginning. Each of them has challenged me to work harder and live up to the potential they see within me." During her time at Appalachian, Hambright continually sought new opportunities, formed new relationships, and challenged herself.
Jarrett Hulin (health and physical education) plans to return home to Randolph County to work as a health and physical education teacher. "I would also love to be a part of a high school baseball and football program during my career in education. After working for a few years in health and physical education, I would like to pursue a degree in school administration and become a principal," said Hulin. At Appalachian, he served as co-advisor of the Residence Hall Council and won the Residence Hall Association Program of the Year Award. Hulin would also like to recognize Byron Towner for his impact, "Byron Towner's assistance in the Homeschool PE Program at Appalachian really helped me improve my craft as an aspiring health and physical educator. Coach Towner was always available to give me inside tips and tricks on how to be a great physical educator. Without his advice, I don't think I would've been as successful as an instructor for the Homeschool PE program."
Maggie Rumley's (recreation management) fondest memory while at Appalachian was her classes with experiential education. "They inspired me to grow into a leader that can provide an opportunity for growth and curiosity which was facilitated for me by all my professors, mentors and co-workers." Rumley would also like to recognize Jerry Cantwell for his impact on her time at Appalachian. "His passion and love for experiential education is a huge reason I feel empowered to push myself in this field. He saw potential in me and nurtured my leadership through sharing his experiences, knowledge and opportunities. Having the opportunity to be his Teacher's Assistant for the Principles of Outdoor Experiential Education will forever remain a pivotal experience that defined my passion for developing aspiring outdoor leaders," said Rumley. After graduation, Rumley will teach environmental education and will lead adventure education expeditions for teens with Adventure Treks.
Justin James Wiet (social work) plans on getting his master of social work (MSW) degree and then he would like to work in a macro social work practice to strengthen and empower communities. Wiet learned to expand his leadership abilities while at Appalachian. "At Appalachian, I learned how to transition the aggressive form of leadership I learned in the Marine Corps into a more strength-based and empowering approach to leadership that lifts people up instead of bringing them down," said Wiet. His fondest memory of Appalachian was his transfer orientation. "Orientation showed me where I was and where I was going. I had no experience with colleges like Appalachian and the entire experience was extremely exciting and energizing for me," said Wiet. He would like to thank Ms. Kristin Harmon for teaching him the importance of self-care for social work practitioners.
Graduate Student Awards
Graduate Student Award recipients are recognized for demonstrating high standards of integrity, excellent academic performance, professionalism, career potential and significant contributions to the department, University and/or community.
Margaret Carpenter (speech-language pathology) hopes to obtain a job working in a hospital, preferably in inpatient acute care working with people who have experienced a stroke, traumatic brain injury, or other medical complications. She plans to become a board certified specialist in swallowing to further her expertise in the world of medical speech-language pathology. Her fondest memories are the department-wide gatherings of students and faculty. According to Carpenter, "It is impossible for me to name just one faculty member that has had a significant impact on my time at Appalachian because Dr. Jordan Hazelwood and Dr. Kim McCullough were both exceptionally influential in my undergraduate and graduate careers. They invested in me - seeing more potential in me than I could see in myself. They challenged me to be my best and created class environments that were conducive to learning - instilling life lessons and clinical skills I remember to do this day. They have graciously walked alongside me by helping me make choices for my career, and I am thankful to have had the opportunity to learn from them over the course of the past few years."
Nicholas Tocci (exercise science) is most proud of being one of the first students to complete the Exercise Science Departmental Honors Program. His fondest memories are of the three regional and two national level conferences where he was able to present and celebrate student research alongside his peers. He would also like to thank Dr. Marco Meucci. "Dr. Marco Meucci has without a doubt been the most influential person throughout my time at Appalachian. Dr. Meucci not only influenced me as a teacher but as a researcher and a personal mentor as well. He never fails to greet people with a smile and a level of energy that's as positive as it is contagious. Dr. Meucci's commitment to advancing his field is paired perfectly with a passion for the human beings he works with and it is the aspect of who he is that has impacted me the most over the years," said Tocci.
Gina Reed's (nursing) proudest accomplishment is "Maintaining a high GPA while working full time, being a mother and a wife, and still living a very busy full life." She will continue to work at the VA Medical Center but hopes to pursue a position in the education department. According to Reed, "My true passion in nursing is caring for the veterans and I look forward to educating the veterans and nurses." Reed would also like to thank Dr. Brackney. "Dr. Brackney has always been available and positive since day one of the program. She has made herself available to answer any questions and guided us along this process. She makes me want to succeed and continue to strive for excellence."
Rachel Matthews Owens (health administration) states, "My biggest accomplishment at Appalachian is the whole graduate school experience. Since I started grad school, there have been many BIG things happening in my life: my baby girl turned one year old (after many health complications), I got a big promotion at work and have met every deadline, I made my health a priority and lost 100 lbs, had major surgery and have kept my GPA at 3.9, all while showing my children the importance of education." She plans to continue working at Langdon and Company for now and hopes someday to have an executive level role in a local healthcare system. She would like to recognize Dr. Sandi Lane for her impact. "Dr. Lane has been a great mentor and instructor. She has incredible experience that she brings to each conversation we have; in every interaction, I learn something new. I truly admire her and respect her in many ways."
Cindy Davis McDuffie (public health nutrition) specifically recalls her most fond memory at Appalachian as May 4, 2018. "It was open house for graduate school. I walked into Dr. Margaret Barth's office nervous and hopeful. She was so kind, informative and her hospitality has created one of the fondest memories in my lifetime." Her favorite class was in leadership where she learned many great things, including: "Be yourself. Everyone else is already taken." (Oscar Wilde). McDuffie would also like to recognize Dr. Kyle Thompson for her impact on her time at Appalachian, "Dr. Thompson's ability to demonstrate what she teaches has given me the vision and goals that I hope to apply in practice. Not only have I learned academically, but Dr. Thompson's ability to build relationships, to connect the value of assistance and the ability to get to know the real person was a very important lesson to me. I will take that with me as I move forward in the capacity of helping others. I am blessed to have had her as a professor and thankful for her knowledge and guidance."
Hannah Stampe (social work) plans to pursue her licensure in clinical social work (LCSW) and work as a therapist. Ultimately she will seek a career in program development and community education. According to Stampe her biggest lesson was moving to Boone after fifteen years of living in Asheville. "I felt honored to be able to put my energy into local projects that felt meaningful and connective. I was incredibly welcomed into the Boone community and have especially enjoyed my work with the Immigrant Justice Coalition."
Message and a "Toast" - Dean Marie Huff
"I am so proud of our student awardees and I am honored to commemorate their many achievements. Each student was selected by the faculty in their respective departments because their faculty believe that these students represent the very best that our college has to offer. I only wish I could congratulate each student in person. Socrates once said, 'Education is the kindling of a flame, not the filling of a vessel.' You, the students, are no doubt among the best students in our college and at Appalachian, and we honor you for your accomplishments thus far. My wish for you is that we really have just kindled your flame here at Appalachian and your journey of learning and discovering how to better serve people is just now beginning. Keep learning and keep growing as students, scholars and people."
To a bright start for brilliant futures!
View Student Awards Ceremony program here.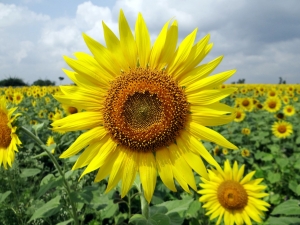 Tags: