By Dr. Denise Levy, Associate Dean for Academic Affairs
Imagine being far away from family, friends and home when a pandemic occurs around the world. That is exactly what happened to 15 students in the Beaver College of Health Sciences and almost 150 Appalachian students who were studying abroad when COVID-19 began to spread. With majors in Communication Sciences and Disorders, Exercise Science, Health Care Management, Public Health, Recreation Management and Social Work, the health sciences students were learning about a variety of topics in their courses abroad. Some had prepared by studying the native language of their host countries and others were hoping to gain those skills during their time abroad.
Many students at Appalachian have never traveled out of the region, much less to another country. Appalachian's Office of International Education and Development (OIED) assists students who are interested in studying abroad, whether for one week or one year. They provide support for faculty-led study abroad trips, help students make connections to partner universities and programs in other countries and assist with scholarships that support students' travels. In fact, Appalachian State University is ranked nationally for the number of students who study abroad - fourth for the total number of students studying abroad and fourth for the number attending short-term programs. In addition to support from OIED, the Beaver College of Health Sciences has a scholarship to assist students who are studying abroad - the William Glen Little Travel Endowment for Health Sciences. One of the college's priorities is to raise additional funds to support students so they may have a once-in-a-lifetime experience.
I know firsthand what it is like to study abroad. During my graduate studies, I traveled with a group of students to Quito, Ecuador. I lived and had meals with a host family, took Spanish courses and visited grade schools and human service agencies. It was truly a life changing experience. I cannot imagine what it would have been like to face a pandemic while on this trip. But that is exactly what our Appalachian students have done. Our 15 health sciences students are all home now, most arriving just in time to shelter in place with their families and loved ones. Some were able to fly directly home, but others had to travel to multiple countries in order to finally make their way home. They came from Spain, Italy, the United Kingdom, Malta, Australia, Ireland, New Zealand, the Czech Republic and South Korea.
Over the past month, I have had the privilege of talking and emailing with these students. I can tell you that each one is resilient. They have been through so much and their study abroad experiences were certainly very different than what they originally imagined. For instance, Kailee Lamb, who was studying in Malta, had a "rough time leaving" because she felt safe there and her host university was not shutting down at that point. Kailee has tried to "stay positive" even though she finds herself wishing she was still in Malta. Like Kailee, many students are working with host universities who are finding their own creative solutions despite technological challenges.
These students continue to be grateful for support from family and friends, from OIED and from the Beaver College of Health Sciences. They have worked closely with their advisors and others to map a plan forward. Sarah Billings, a Junior majoring in Communication Sciences and Disorders, hopes to study abroad again next spring. Some, like Caroline Bennett, are continuing their courses online through their host universities, learning about the languages and cultures of their host countries. Others have withdrawn for the spring 2020 semester and have rearranged courses to take this summer so that they can still graduate on time. And finally, some have joined either existing courses or newly created independent study courses taught by Appalachian's faculty this spring. Working individually with these students is just one more example of the many ways that Appalachian's faculty and staff are supporting and accommodating students.
The semester abroad may not have turned out the way these students originally thought it would, but they have shared their gratitude and appreciation for all who have helped bring them home and supported their continuing studies. Sarah Billings says she enjoyed her time in Milan, Italy, and she is "fortunate to have helpful and understanding advisors and professors." She extends "a big thank you to App State for caring and for doing everything they can in a time such as this."
In addition to thanking all the outstanding App faculty and staff, I personally want to share my gratitude for these 15 health sciences students. They have shown resilience, determination, passion, creativity, and flexibility. I am proud to call them fellow mountaineers.
Dr. Levy in Ecuador in 2002*
Kailee Lamb in Malta*
Sarah Billings in Prague*
Caroline Bennett in Rome*
*Photo submitted.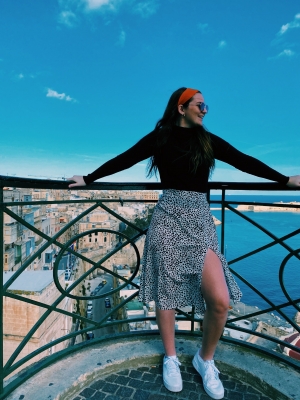 Tags: