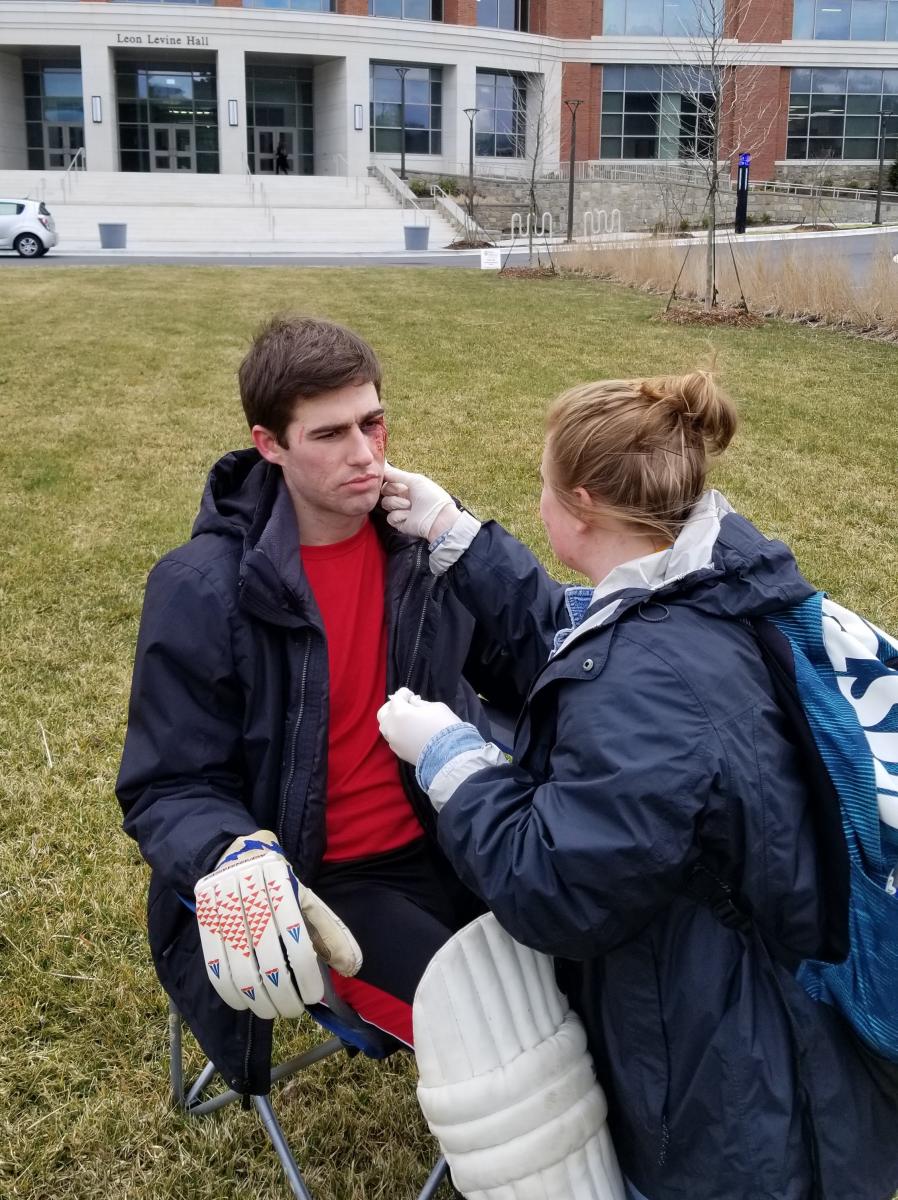 Simulated facial injury. Photo submitted.
By Audrey Gurkin
Boone, NC — Who would have thought athletic training and theater and dance students would make great partners? The successful collaboration was brought together by Laure Rivera, senior lecturer in the Beaver College of Health Sciences' (BCHS) Athletic Training Program and Gordon Hensley, professor in the Department of Theatre and Dance.
The athletic training program held an Objective Structured Clinical Examination (OSCE) session Tuesday evening in Leon Levine Hall of Health Sciences. An OSCE is a hands-on, real-world assessment method utilized in health sciences programs to measure clinical competence using standardized (simulated) patients. OSCEs will become a major assessment technique in the new Master of Science Athletic Training degree that begins in May of 2020. The athletic training faculty plan to expand OSCEs in their program and beyond to create interprofessional opportunities with other BCHS clinical programs, such as social work, nursing, nutrition, and communication science disorders.
In order to prepare for the recent OSCE event, Hensley facilitated recruitment of theater students for Rivera to train to play the standardized patients. With the aid of Hensley's realistic makeup skills and engagement from the theater students, the athletic training faculty were able to simulate medical conditions such as open wounds, bone fractures, and mental illness. The OSCE session proved to be a win-win for both programs. The theater students were able to practice their improv and off-stage acting skills and the athletic training students experienced quality, real-world situations they will encounter as an athletic trainer. At each station, athletic training students read a short paragraph on their scenario and then had 10-15 minutes to assess and treat their patient. The scenarios included:
A cricket player who was struck in the eye with the ball

A soccer goalkeeper who was stepped on during a game (open forearm fracture)

A crossfit athlete who fell down the steps during a workout (open fibular fracture)

A patient with a spider bite who developed MRSA (assessed in the Interprofessional Health Clinic)

A collegiate student-athlete with a career-ending shoulder injury suffering from depression and anxiety (assessed in the Interprofessional Health Clinic)
Rivera expressed her gratitude for this collaboration and hope for future collaborations, "Creating Objective Structured Clinical Examinations for the athletic training students provided several opportunities. We were able to work with the Department of Theatre and Dance to provide unique, hands-on learning experiences for both theatre and athletic training students. Filming the scenarios also allowed for reflective and tangible learning of hard and soft clinical skills which are invaluable to the students. I am very excited about this project and thank my athletic training colleagues and our theater partners for their support and help. The Athletic Training Program is looking forward to collaborating with others to expand OSCE opportunities and enhance student learning."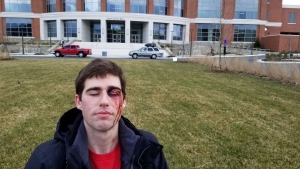 Tags: