Three members of the Beaver College of Health Sciences faculty have been invited to participate in the Chancellor's Academic Development Leadership Academy for the academic year 2022-2023.
BCHS faculty Dr. Adam Hege from Public Health, Jennifer Howard from Athletic Training and Dr. Kym Fasczewski from Exercise Science share their thoughts and aspirations on the year ahead.
Q: What do you plan to accomplish while serving in this leadership program and how do you think this will impact your teaching?
Dr. Adam Hege, Public Health
"I plan and hope to learn more about leadership opportunities within higher education and where my talents and skills will be most useful as I continue to grow as a professional. I'm excited about serving with and learning with this great group of people involved. As a teacher in higher education, my goal and purpose is to inspire young minds and hearts to service and leadership to our common humanity and the pursuit of a more socially just world - this experience will provide me with the opportunity to grow in my ability to do so."
Jennifer Howard, Athletic Training Program
"Through the ALDP program, I hope to learn more about higher education administration and about effective leadership strategies to advocate for my students and colleagues. Many of our athletic training students go on to work in either collegiate or secondary school settings. I hope through this experience I gain additional insight I can share with them about successfully navigating these education institutions."
Dr. Kym Fasczewski, Exercise Science
"Higher education is rapidly changing and if we hope to continue to provide effective education for our students, we are going to have to evolve. My hope in being part of the ALDP program is to gain a better understanding of what effective leadership looks like so I can contribute to this changing landscape in meaningful ways."
Q: What's your favorite leadership statement/mantra/quote/social media influencer or your go-to book on leadership?
Dr. Adam Hege, Public Health
Social media influence - Simon Sinek (I use his materials in class and the way I approach leadership). He's also done some really good TED Talks, and I love these quotes from him,
"Leaders aren't responsible for the results. They are responsible for the people, who are responsible for the results."
"If your actions inspire others to dream more, do more and become more, you are a leader."
His book, Start with Why: A Powerful Way to Lead with Purpose" is what influences me.
And I also love these two quotes from Rev. Dr. Martin Luther King, Jr.:
"Everyone has the power for greatness, not for fame but greatness, because greatness is determined by service."
"We need leaders not in love with money but in love with justice. Not in love with publicity but in love with humanity."
Jennifer Howard, Athletic Training Program
It may be cliche, but I often anchor to the saying "No one cares how much you know, until they know how much you care." The quote is often credited to Theodore Roosevelt, but there's some discrepancy as to whether he actually said it.
I also like "Don't find fault; find a remedy," by Henry Ford as it stresses the importance of evolving and reflecting inorder to move forward.
Dr. Kym Fasczewski, Exercise Science
"Fight for the things you care about, but do it in a way that will lead others to join you." – Ruth Bader Ginsburg
Q: Any other thoughts you'd like to share?
Dr. Adam Hege, Public Health
"As a first-generation college student from rural North Carolina (like many of our students on campus) and one who often struggles with the dreaded imposter syndrome commonly found in higher education (and many other fields), I'm still continually learning more about myself and the leadership qualities within me that I didn't know existed in earlier periods of my life. This experience will afford me the opportunity to continue to build my confidence and pursue my fullest potential as a leader at Appalachian State and in all facets of my life."
Jennifer Howard, Athletic Training Program
"We routinely tell our students we want them to be life-long learners. I'm excited about this opportunity to practice that mantra in my own life surrounded by such great leaders and colleagues."
Dr. Kym Fasczewski, Exercise Science
"I am happiest when I am challenging myself and/or improving the lives of those around me. This opportunity affords me the chance to do both of these things simultaneously. I am really looking forward to learning leadership skills from such a talented group of professionals and transferring those skills to my own work."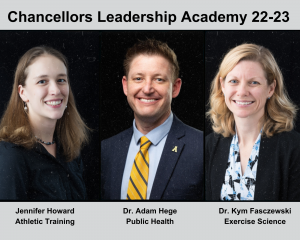 Tags: