Pictured left to right, front row: Vinny Catino, Chelsea Crowley. Back row: Evan Malinchock, Sydney Shadrick, Joy Siler, Sydney Stoter, Jama Brookes, Jabari Moore. Photo by Audrey Gurkin.
The Wilson Scholars Program was established as Appalachian's premier scholarship in 2013 by Brad and Carole Wilson of Raleigh. The Wilsons have been engaged alumni since graduating in 1975 and they aspire to support student-leaders steeped in the Appalachian experience to make a difference in the world.
The Wilson Scholars Program embodies a rich blend of academic excellence, leadership and service. The scholarship covers full institutional costs, as well as an additional $10,000 experiential learning stipend.
Scholars are chosen based on their academic achievements, as well as their service and leadership in their schools and communities. The program attracts outstanding students and provides the resources for them to think creatively, strategically, and collaboratively, while instilling in them the commitment to change the world.
Since the inception of the Wilson Scholars Program, the Beaver College of Health Sciences Department of Recreation Management & Physical Education (RMPE), in collaboration with Outdoor Programs (OP), has engaged in a three day expedition for the scholars. This backpacking adventure incorporates the Wilson Scholars' guiding principles of leadership, service, community, and discovery into expedition behavior, map and compass usage, camp and kitchen set up, as well as teamwork. The incoming freshmen work individually and collectively to determine how these principles fit within the responsibility of being a Wilson Scholar.
This rigorous expedition encompasses a three day hike through the western North Carolina mountains and culminates at Table Rock in Pisgah National Forest. Of the six incoming freshmen, all but one (due to an injury), attended this year's expedition along with guides Jerry Cantwell, Senior Lecturer in RMPE, Chelsea Crowley and Vinny Catino with OP.
Sydney Stoter, a Communication Sciences and Disorders major from Califon, New Jersey, had high expectations of the trip, "I feel really good about the trip. It's going to be a great, exotic bonding time, and it's going to be a lot of fun. I'm sure it's going to be tough at times, as these packs are going to get really heavy, but once we get food and water, it will lighten up and we'll have a blast."
This expedition also teaches the scholars about leadership styles, servant styles, transitioning into college, and setting personal and group goals. This transition into their roles as a Wilson Scholars, as well as leaders of our communities is certain to be one they will treasure throughout the rest of their lives.
Pictured left to right: Chelsea Crowley, Sydney Stoter, Joy Siler, Evan Malinchock, Jabari Moore, and Vinny Catino. Photo submitted.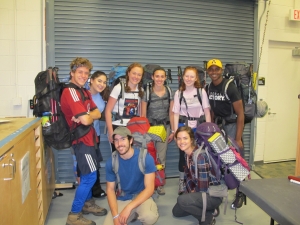 Tags: