By Audrey Gurkin

Boone, NC — From a very young age, Leah Bouchard knew that earning a college degree was expected of her. More importantly, it was something she knew she wanted to do. She also knew that it was something she would have to largely finance herself. Being the daughter of hard-working, middle-income parents who simply did not have the means to fund her education meant she would need loans or scholarships to make attending college a reality. Her parents were first-generation college students who graduated by working long hours and taking out loans, and while they lovingly supported her and offered as much help as they could along the way, they were not able to financially support her college education. Bouchard knew this from the start and began the task of seeking scholarships and grants for college as a junior in high school.
When she successfully obtained enough scholarship support to carry her through her first year, Bouchard enrolled at the University of North Carolina with plans to build a career in military intelligence. She experienced a change of plans, however, when "something didn't feel right" halfway through her first year of college despite her good academic standing and interest in her courses. On a whim, Bouchard applied for a transfer to Appalachian State University's Social Work program, and according to Bouchard, "It's been a perfect fit ever since." Through the benefit of scholarships, she was able to graduate with minimal loans and go on to achieve her Master of Arts in Social Administration from the University of Chicago. Bouchard is quick to note, "You don't get anywhere on your own. It was the tremendous support of the Office of Institutional Research Assessment and Planning (IRAP) staff who graciously employed me, the Department of Social Work faculty who invested in me, and my family who loved and encouraged me that allowed me to graduate with a Bachelor of Social Work in December 2015." By accelerating her studies, Bouchard was able to finish in three and a half years. Her steadfast determination enabled her to take a 20-hour course load (at times), while also working 20 hours per week in the IRAP office. That point of pride helps her today when she feels exhausted after working a long week at Virginia Commonwealth University where she is pursuing her Ph.D. as a researcher.
Bouchard's gratitude was a key factor in making the decision to sponsor a Beaver College of Health Sciences Scholarship. When asked what advice she would give her scholarship recipient, she replied, "The main thing I've learned is that flexibility is the best kind of security when it comes to choosing a career or getting through college. If you're willing to give yourself some room and allow the flexibility, and forgiveness to embrace your change of heart that will likely come as you grow and learn and experience more, it can lead you to some pretty cool places."
At this year's Celebration of Giving, Bouchard had the opportunity to hear the impact her scholarship had on the recipient. Tristan Killian, a graduate student pursuing a degree in social work, was the student speaker at this year's event. His impassioned speech reassured Bouchard that her generosity was indeed making a difference. According to Bouchard, "We have a duty when we have more than enough to build a longer table and not a higher fence. That same opportunity was provided for me and I feel the urgency to give back what I can." What an impact.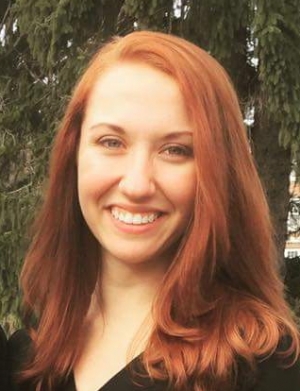 Tags: