By Amanda Mlekush
The accomplishments that Beaver College of Health Sciences 2023 master's graduate Jonathan Farrior earned in his two years at App State are impressive, but reflect just a small part of his journey toward creating a new, and healthier life for himself and those around him.
When he reached his mid-20s, Farrior said he was at a low point, battling weight and some associated health issues including hypertension, as well as struggling with his mental health and feeling stuck in a job that did not have capacity for growth. He decided to return to school in 2017 to finish his bachelor's degree at East Carolina University and worked to lose 135 pounds, creating a healthier lifestyle and state of mind. A self-proclaimed "science geek," Farrior said at ECU that he discovered dietetics and found a passion for helping others while learning about nutrition and foods.
"When I came back to school, I didn't know if I'd pass or succeed since I was 26 years old pursuing a degree, but I did really well and ended up graduating with a 3.95 GPA," he said. "I settled on studying dietetics, and I love it. I got involved in some food security work and my faculty mentor at East Carolina introduced me to research and encouraged me to look for graduate programs.

Jonathan Farrior (left) is pictured with Beaver College of Health Sciences Dean Marie Huff, PhD.
Selecting App State for Graduate Studies
"When I started applying for graduate programs, I researched programs and thought that Boone sounded amazing because it has a well-respected Nutrition program located in the mountains, and I heard the faculty were amazing. I can go outside and hike in the middle of the day, so I decided that the program would help me pursue my professional career goals while helping manage my mental health."
Farrior enrolled in App State's master's program in Nutrition and Dietetic Internship and was selected for one of the college's Beaver Scholarships, a $10,000 per year scholarship designed to help top scholars from North Carolina pursue a degree in patient care related fields.
Exploring Research To Identify Barriers for WIC Clients
For his graduate project, Farrior studied and compiled geographic data to identify potential food insecurity pockets for the state's Women Infants and Children (WIC) program.
"To work on this project, I taught myself how to use the GIS system for mapping so that I could generate the service areas for WIC," said Farrior, who was mentored by Dr. Danielle Nunnery from the Department of Nutrition and Health Care Management and featured co-authors Dr. Maggie Sugg, Department of Geography and Planning, and Dr. Manan Roy, Department of Nutrition and Health Care Management.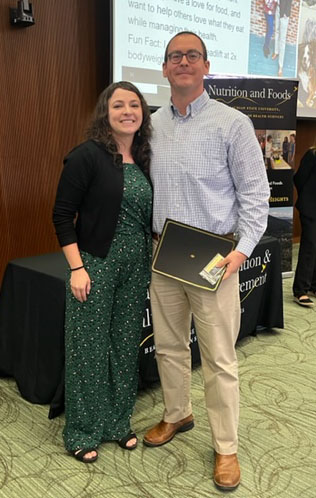 Farrior (right) is pictured with his mentor, Dr. Danielle Nunnery from the Department of Nutrition and Health Care Management.
"My goal of this research is to find a useful approach to connecting people with resources," he said. "After graduation, I'm planning to refine some of my metrics, pursue publication in an academic journal and then reach out to state WIC offices to share this information as a way to identify and address this issue."
During the Office of Student Research's annual poster competition, Farrior received a Top 3 placement for his poster and research presentation. He was also honored by the North Carolina Association of Nutrition and Dietetics (NCAND) by being elected secretary of the organization, joining another one of his mentors, Dr. Melissa Gutschall from the Department of Nutrition, in the organization's leadership group.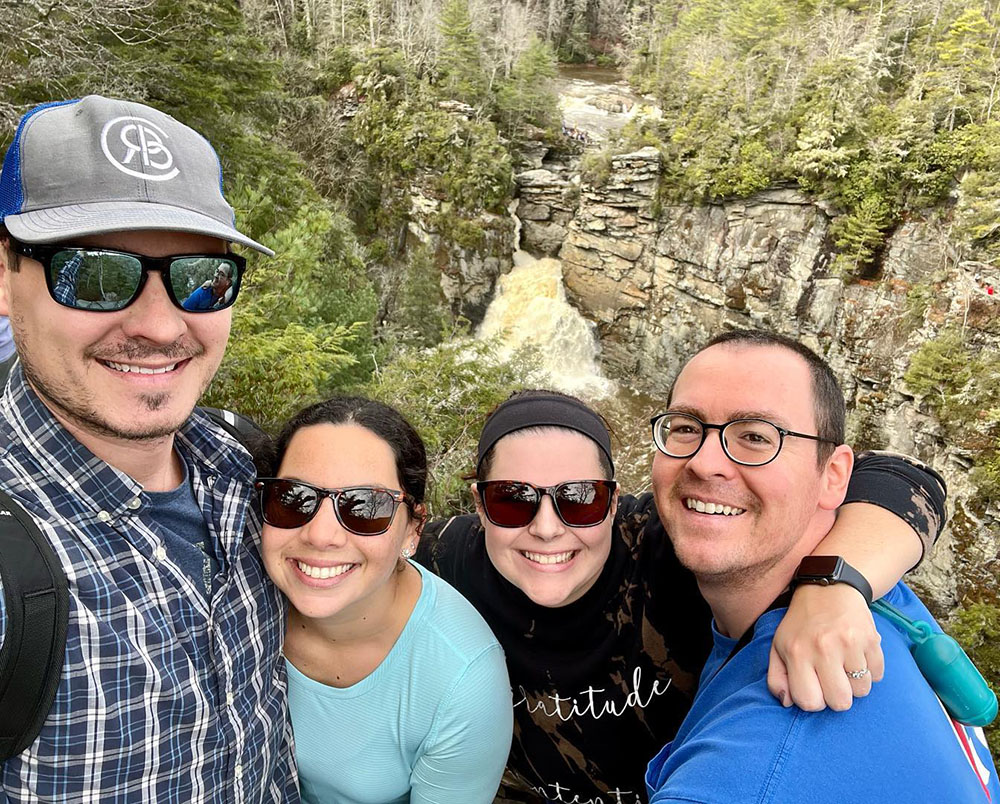 Farrior (right) is pictured with his fiancee and friends during a recent hike at Linville Falls
Looking Toward The Future
During his time at App State, Farrior said he was able to continue embracing and investing in his healthier lifestyle, and is now apt to be found hiking with his fiancee Claire LeMoine, and their hound dog rescue Ellie.
In addition to refining his WIC research project after graduating, Farrior plans to get married to LeMoine at Grandfather Mountain this fall, and select the next step in his career.
"I'm leaving my program with an open door possibility of working in either acute or chronic care related to dietetics," he said. "With dietetics, you can craft your own path and have the potential to make your own career. Helping people grow really aligns with who I am and how I want to help and inspire others."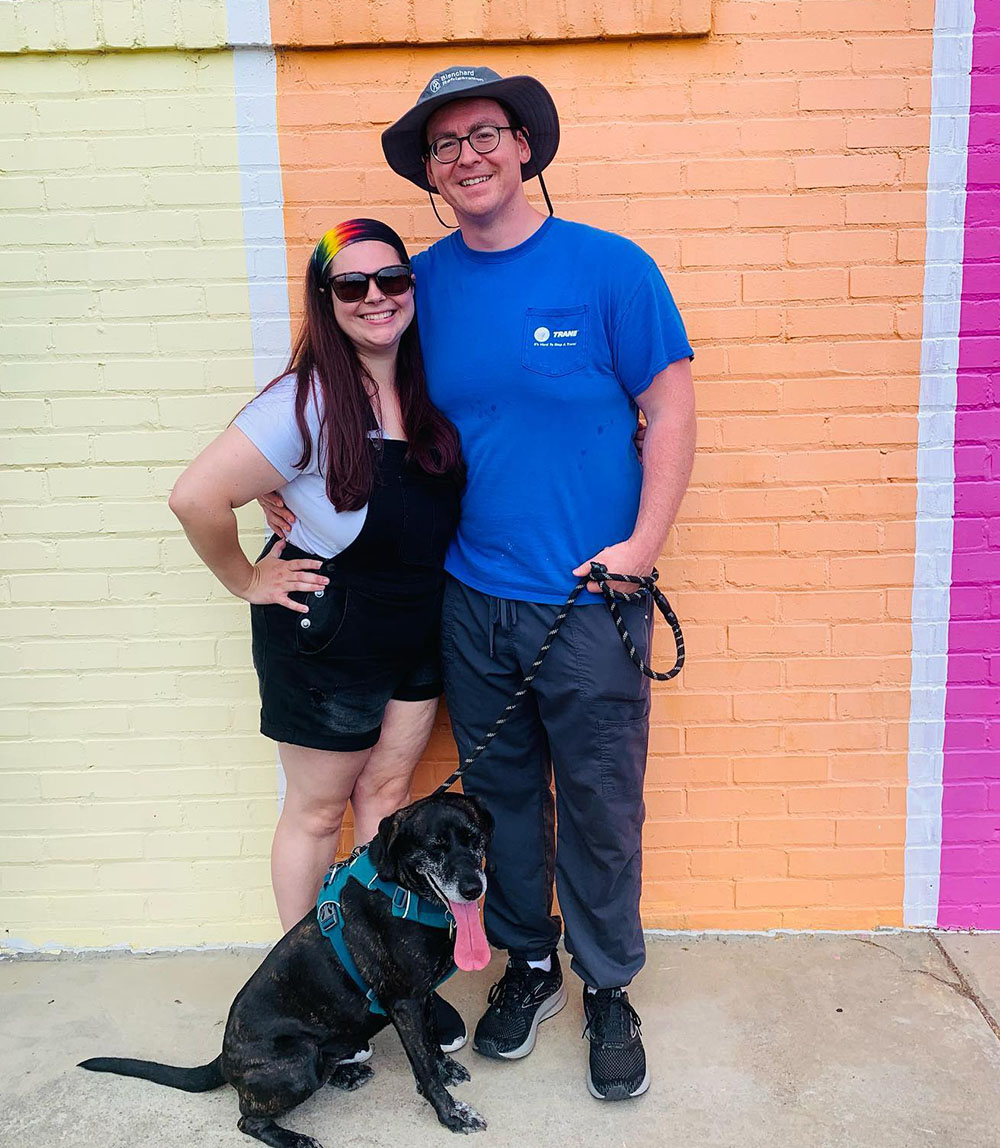 Farrior (right) is pictured with his favorite hiking companions--fiancee Claire LeMoine and hound dog rescue Ellie.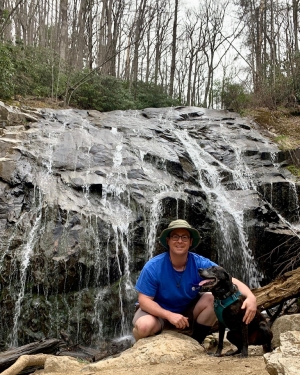 Tags: